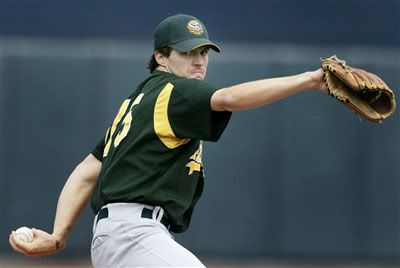 Notes: Zito hoping for Opening Day start - I'm hoping he's starting too! Why? Because I'm going to freakin' be there!!! :D Our first suite game is Opening Night. Most groovy!

Oh, like my new icon? ;)



You're 35% Irish

You're probably less Irish than you think you are...
But you're still more Irish than most.



But really, I'm not Irish at all. LOL!





Your Birth Month is May





Unique and creative, you seek your own path in life.

You love change and are able to adapt to any situation.

Your soul reflects: Sweetness, joy, and a complete life.

Your gemstone: Emerald

Your flower: Lily of the Valley

Your colors: Yellow, red, and green





I like how Green & Yellow are my colors. Like the A's!!!



Your Brain's Pattern

You have a tempered, reasonable way of thinking.
You tend to take every new idea in, and meld it with your world view.
For you, everything is always changing. Each moment is different.
Your thinking process tends to be very natural - with no beginnings or endings.
Your Candy Heart Says "First Kiss"

You're a true romantic who brings an innocent hope to each new relationship.
You see the good in every person you date, and you relish each step of falling in love.

Your ideal Valentine's Day date: a romantic dinner your sweetie cooks for you

Your flirting style: friendly and sweet

What turns you off: cynics who don't believe in romance

Why you're hot: you always keep the romance alive
You Are a Glazed Donut

Okay, you know that you're plain - and you're cool with that.
You prefer not to let anything distract from your sweetness.
Your appeal is understated yet universal. Everyone digs you.
And in a pinch, you'll probably get eaten.
You Passed 8th Grade Math

Congratulations, you got 10/10 correct!



SCARY!!! But woohoo! LOL! ;)